The App
OptOut is the first news aggregation app for exclusively independent media. The app, which will launch in beta format in early 2022, unites independent outlets and gives news consumers a refreshing, fully independent media ecosystem—100% free from corporate media narratives.
Unlike most news apps, OptOut seamlessly integrates articles, podcasts, and videos from our more than 100 participating outlets.
The app is being developed by volunteers with the Progressive Coders Network, a nonprofit, nonpartisan progressive community of tech and non-tech activists building open-source tools to empower the grassroots and reduce the influence of big money in politics. Many thanks to our team: Kay Ablamsky, Taylor Beck, Jared Billig, Robert Diamond, Brian Ephraim, Reza Etezal, Sema Hernandez, Lori Paulson, Stephen Scapelliti, Chris Sculnick, Matthew Smith, Noah Williams, Jake Varghese, and Rebecca Vitale.
OptOut Originals
We publish a free weekly newsletter with content from outlets in the OptOut network. In the future, we'll also publish original reporting, analysis, and podcasts produced by OptOut.
The Foundation
OptOut is a project of the OptOut Media Foundation, a 501(c)(3) nonprofit charity founded by independent journalists Alex Kotch and Walker Bragman in 2020 and based in Brooklyn, NY.
Our mission is to educate the public about current events and help sustain a diverse media ecosystem by promoting and assisting independent news outlets and, in doing so, advance racial, social, economic, and environmental justice.
Since we don't run ads, this project is funded entirely by individual donations and foundation grants.
Please support us with a small, tax-deductible monthly or yearly contribution.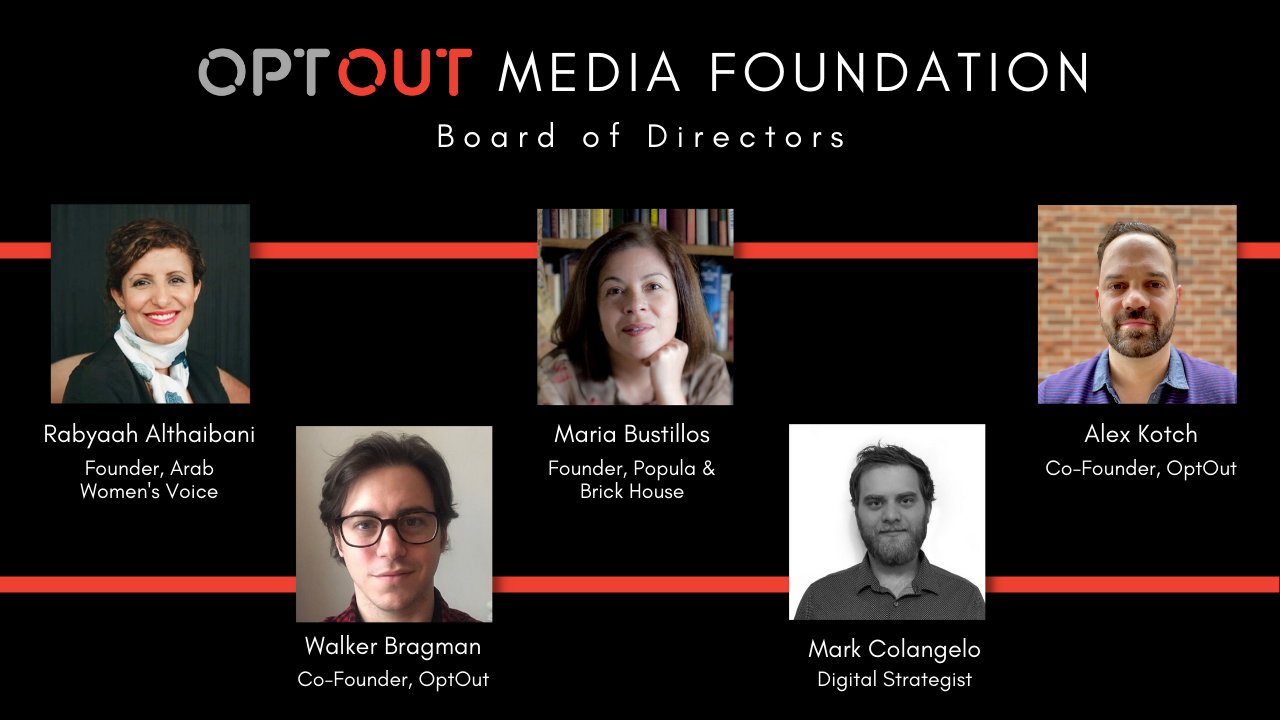 Thanks also to Lawyers for Reporters, Morrison & Foerster, and Proskauer Rose for their pro bono legal assistance.
---
Why sign up?
Subscribe to receive free weekly newsletters full of great content from our participating media outlets, stay up-to-date on all OptOut developments, take part in user surveys, and be first in line to access our free beta app.
Why should I become a paid supporter?
OptOut is a nonprofit and totally volunteer operation, but in the short term, we need money for web hosting, other development fees, design, marketing, and fundraising. In the longer term, we want to build out a staff to curate your news experience and offer free services such as communications and podcast production to independent outlets with limited resources.
We need your help to make this happen so we can deliver 100% independent media to you every minute. All contributions are tax-deductible.
Our Supporters
Since our founding, OptOut Media Foundation has raised money only from individual donations and a grant of $5,000 from The Puffin Foundation. We hope and expect to receive more foundation grants, but small donations are and will continue to be essential for our sustainability.
2021
Individual donations ($26,343)

$10,000 and over: Jesse Crawford
$5,000 and over: Alex Kotch
$500 and over: Ben Crawford

The Puffin Foundation ($5,000)
2020
Small donations of $100 or less ($5,195)